TThe change of seasons is a great reason to renovate your home. With winter months ahead and the holidays over, it's possible to use this season for creating a sanctuary where we feel cozy, warm, and secure throughout the winter.
We recently moved into a new home so we haven't yet set up our bedroom other than to just "move our things in!" so I'm excited to give this space a little more thought in the month of January. To even dream a little.
Even if you don't need or plan to do any room makeovers in this season, a time for rest and dreaming is good for the soul!
My upcoming book A Lovely Lifestyle will discuss how to use the winter season as a time to relax and recharge. Winter is definitely when I spend more time in my bedroom. Of course, I also love sitting by the fire or warming up in the kitchen, but I especially love to retreat to my bedroom early so I can snuggle in and get cozy — so I need it to be a welcoming spot for a long winter's nap :).
As you may have seen, this month we're doing a home challenge called A Lovely January. It's simple–just pick any room in your house to make progress on this month. Learn more about how you can join here. I'd LOVE to have you join us and share!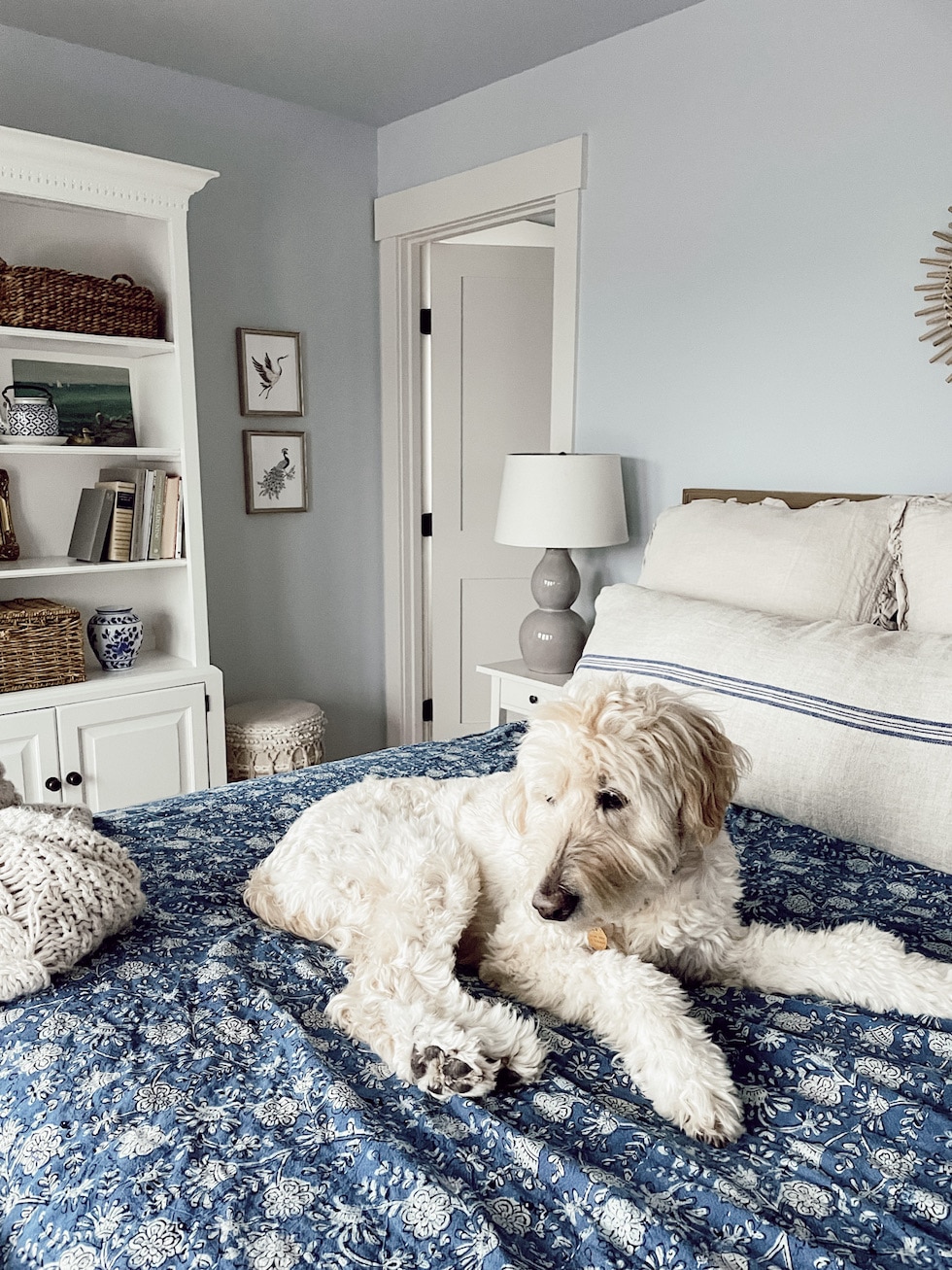 For the challenge, I decided to focus on my bedroom..
This year, our main budget and priority will go to a kitchen renovation and addition. I will also talk about it on the blog. Because the bedroom is where I go in winter, I want to make it as cozy and comfortable as possible.
We are going to use the furnishings we already have, which currently consists of our dresser which has been so versatile (over the years we've used it for clothes, moved it to the living room and used it in the guest room closet!). Our cane bed, the old bookcase, some lamps, and one or two mirrors will all be used. We also plan to use the two nightstands, which came with our house, and the IKEA chair. We might update these items if we find new pieces that we like or that are more suitable for the space. For now, however, we are content with the things we have.
What can we do to refresh our home?
We removed our garland this week and will now be starting over.
Lighting:
To make this space as cozy as possible, I'd like to improve the lighting. A new brass floor lamp (shown below) was already purchased. It is ideal for reading in our chair. We will probably keep the floral lamp that we have on our dresser (shown below), it's so pretty! I want to start looking for a ceiling light, the one that is there is not terrible so it's not an emergency at all but I always love changing out light fixtures in a new home to bring in more character and personality. I plan to purchase plug-in wall lamps for our bedroom so that we have more space on our nightstands. One additional lamp or wall sconce will be required to bring soft light into the room. I'm looking for something that is affordable.
Mirror:
Hanging up this mirror was one of our to-do's that we already completed! I love the way it reflects the views out of the windows. Mirrors make rooms seem larger. We've had this mirror for years, but I found two similar ones if you're looking for something similar: here, and here.
Bedding:

While I still love some of the quilts I've acquired in the past few years (including this blue and white one below), I am feeling inspired to switch a few things up with bedding this winter. I don't really have a "winter look" for this room so I think that will be fun. I love to be able to mix and match pillows and duvets and quilts and even get something new for the season, so I'm looking forward to that. I don't have any other rooms with beds right now, other than my rattan daybed in my new office, so this one will be the one I get to have fun working with in every season!
Color Palette:

We considered painting our room, but decided against it. The paint color (Bunny Gray by Benjamin Moore) is actually very pretty and really complements the colors of the water and sky outside so it's very soothing in here. We can always change the color after we've lived with it for some time, but we can save our energies and time for now. I am going to have a lot of fun with the bedding, mixing in different patterns and colors. I believe the backdrop will be great for a variety options.
Slipcovers New:

I thought about putting a different chair in here, but again, it doesn't seem necessary right now. It's super comfortable so I could update it with slipcovers and keep it, or at least enjoy it until a better idea comes along.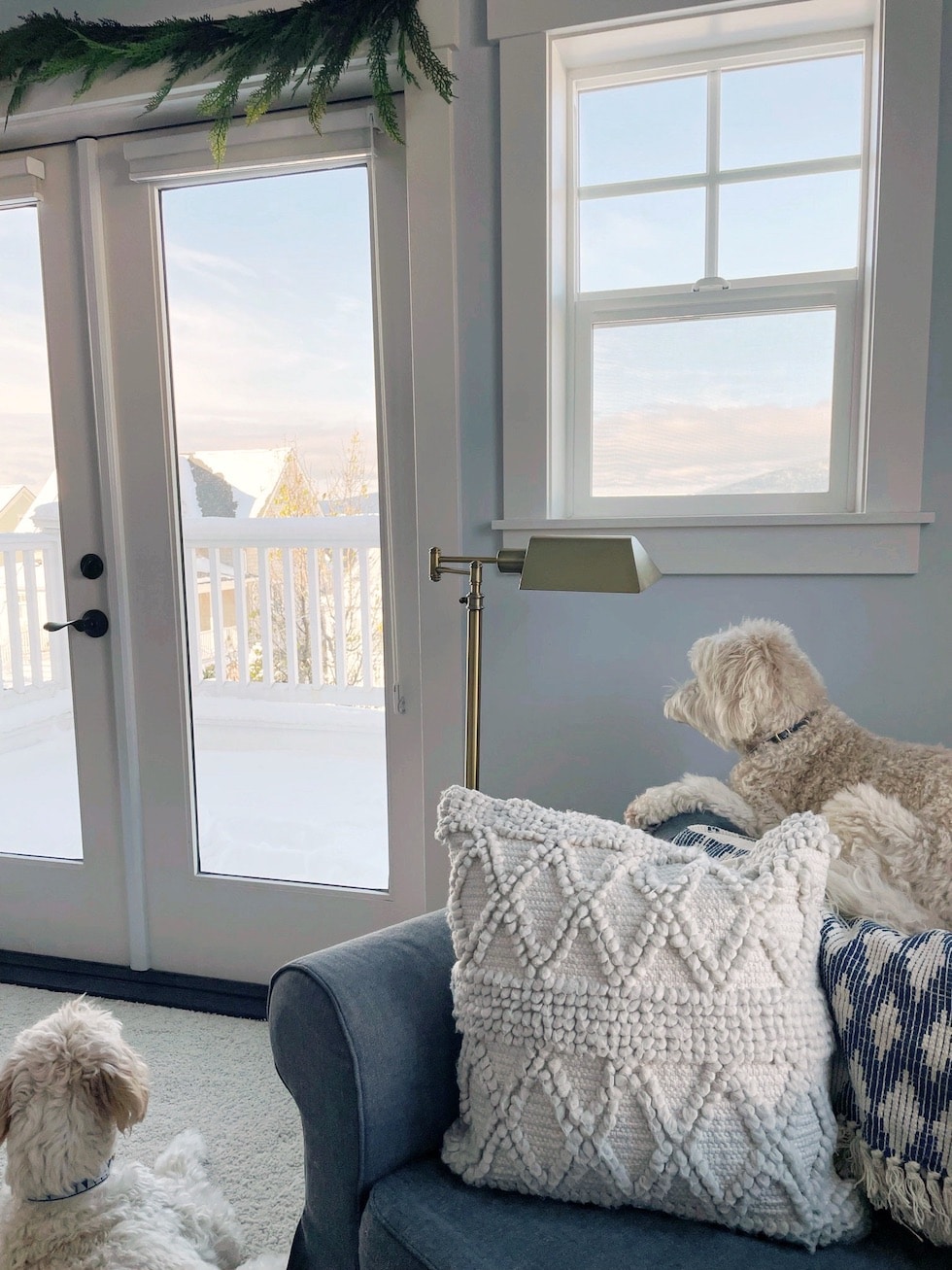 New Bench:

A bench is needed at the bed's end. It's how our dogs can safely get up or down (yes, we let the dogs up on the bed. It wasn't my original plan to allow it, but it happened and now that they are 8 and 10 there's no going back. Although they sleep most of the night in their beds, they also love to cuddle up with us during the day and take naps there. I think it's comforting to them. It's what it is, ha!
Art:

I'm not sure yet what I want to do for art in here, right now we have a few things but nothing has to be permanent so I'll keep my eyes peeled! The art can be used to add style and color and can also be easily changed according to the seasons. By the way, we shared lots of great art sources over on our new The Inspired Room Style Instagram–we saved them to the "Art" highlight here on our profile!
Window treatments:

I wasn't sure I would put curtains in here, but I do think they are so cozy for a bedroom. Right now some windows have paper shades and some don't have anything. Privacy isn't much of an issue on the windows that don't have anything on them yet, but it would be nice to be able to darken the room more as well as add softness. I'll share my ideas for adding curtain panels and maybe even to add shutters on a window to add privacy to the bottom half.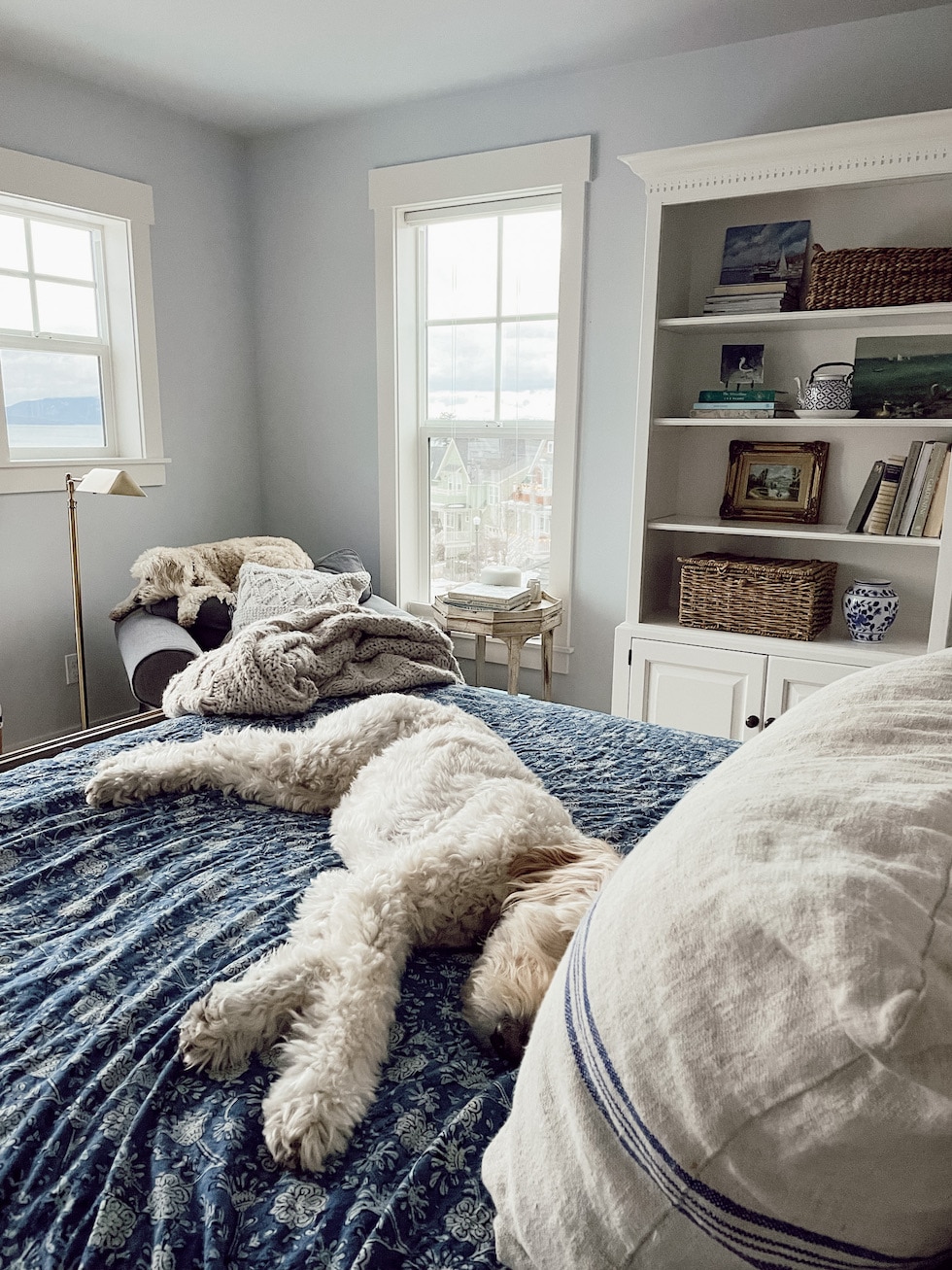 Function:

There's a lot of need for organization in here and in our closet, so gathering ideas and working on organizational systems will be on my radar this winter as well!
Flooring:

My ultimate goal is to add hardwood flooring throughout the house and here. As we are undergoing a renovation, we might end up doing all floors at once. Or, I might get to work on the upstairs first. We'll see. Let me show you some of my inspirations as we go. To add some color and pattern, you might consider a throw rug for the chair or outside doors.
Your Dream List

This room will be my home for many years. I would love to add wallpaper or a wood wall treatment, wood ceilings, crown molding, a fireplace ….no end to the fun ideas I could dream up for this space!
This gives me a great set of goals to work with this season. Making a big list doesn't mean I will do them all. I'm certainly not in a hurry so there's no pressure to do any of it. I will be inspired by others and look for ways to do things now. For January, my goal is to finish the month with new lighting and a cozy winter look at the bed.
What are your plans for this month? Send us your plans, dreams, lists, and progress to our The Inspired Room Facebook page or use the hashtag #alovelyjanuary on social media. Tag me @theinspiredroom for more visibility!).