DAre you overwhelmed by the task of designing a space? These are my first steps to help you design a new room.
1. Evaluate the Space
First, I take a look at what space I have. What do you like most about it? What is it that I don't like? Are I happy with the arrangement of the furniture or the colors? But most importantly, how do I like it? FeelTo be here? Consider the current mood and what you'd like to change about it. Do you have any clutter that needs to be cleared? Are there certain corners or particular angles that don't inspire you? What are your initial thoughts? I don't have to solve it all…I just use this time to observe what's working and what isn't. You can write down your observations in a notebook if you'd like!
2. Find Inspiration
Next, I look for inspiration. I begin by searching for inspiration in everything and everyone. I don't worry too much yet about the practicality of the idea or the Why? behind my inspiration…I'll get to that next! I save any image, idea, art, or piece of furniture that speaks to me in some way. I save books with little sticky notes. (See my list of favorite home design books HERE). If it's online inspiration, I will pin them to a Pinterest board, or if it's on Instagram I use the little flag button on the bottom right to save them to a specific folder.
3. Takeaway Tips: What to Look For?
Now that I have some inspiration saved, I try to analyze my photos and take note of what elements I like (I've done several posts about this called Takeaway Tips, see all here!). Sometimes I find I will save an inspiration photo but don't know why it was that I gravitated toward it. Take a closer look at what you like. You may have saved a photo of a kitchen which is completely different from your own home. On closer inspection, you notice that the kitchen is brightly colored and has colorful cookbooks on its built-in shelves. This might lead you to feel inspired by brightly colored spaces and open shelves that feature pops of color.
4. Look out for patterns
Next, I look for patterns within the inspiration photos. You could even be looking for literal patterns like stripes or plaid. but I'm mostly looking for color schemes, furniture elements or room styles that I seemed to choose repetitively. Are there many photos of dark, moody walls that I have saved? Do I love the look of an antique-filled room? Do I enjoy the sleek look of built ins? I refer to the takeaway tips as they can help me refine what elements I want to include. Although I may have photos of white rooms saved, I find that I was really inspired by the architecture of white panels. Or maybe the look of vintage wood furniture against white walls.
It is also helpful to reflect on whether any patterns are influenced by current trends and what I like for my home. I might save a lot of moody earthy toned rooms, but it's helpful to remind myself that while I might love them in photos that doesn't mean they will be the right choice for my home. It's OK to discover that you love a certain look in photos and yet not choose it for your home.
After completing those four steps….I start to feel much more equipped to begin making the specific plans and design decisions for my own space!
In my next post I'll share some of the inspiration photos I've started to gather as I brainstorm ideas for my new kitchen remodel!
I'll also give you an update on my bedroom and plans for that for "A Lovely January". If you missed any details, you can catch up by clicking here.
You can find more inspiration on The Inspired Room.
How to Find Your Style (+ My Favorite Home Design Books) – VIDEO
How to Find Your Decor Style and Get Inspiring
Takeaway Tips: How to Decorate an Inspiration Room
Check out these more takeaway tips posts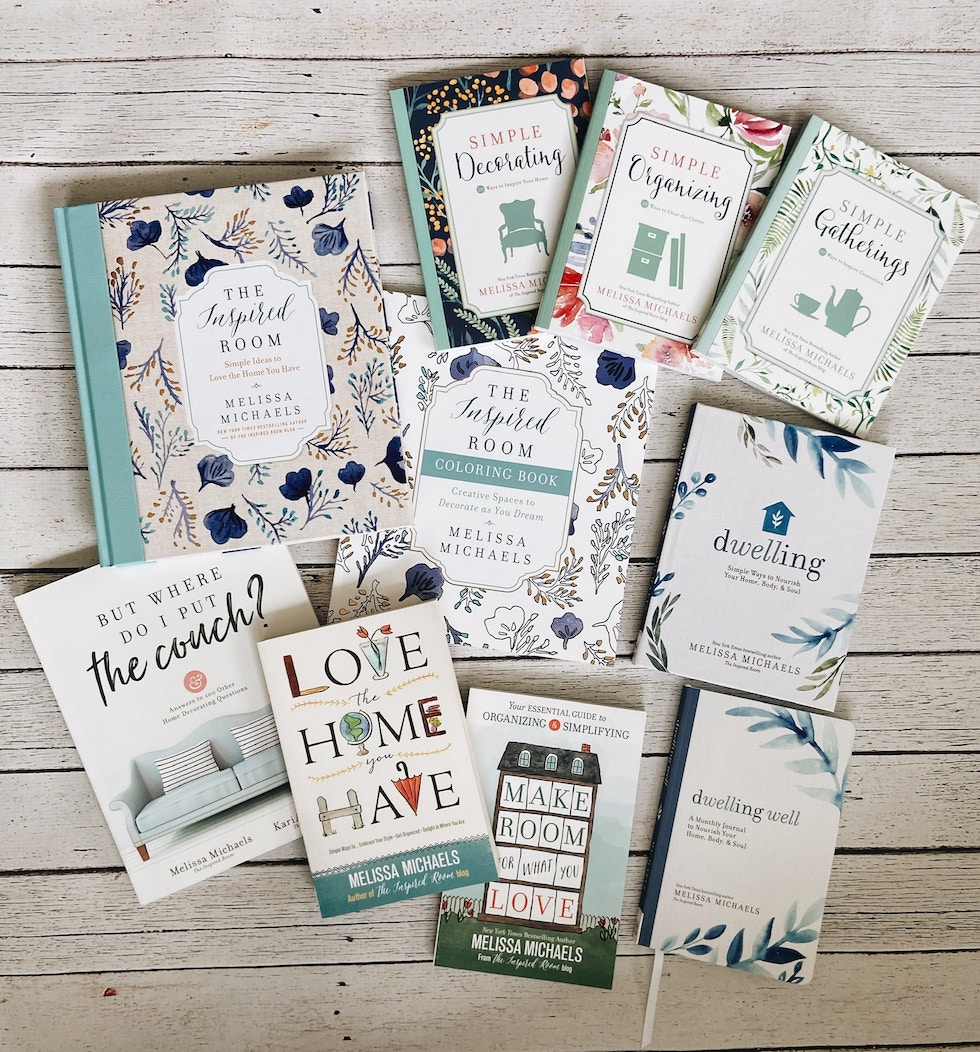 You can find decor advice in my books The Inspired Room and Simple Decorating.
Check out my "How to Decorate" page to find decor inspiration room by room.
You can also follow my new Instagram @theinspiredroomstyle for style advice and our thoughtfully curated selection of timeless furniture and charming accessories!